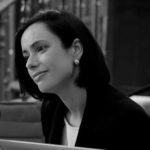 Cristina Blanco Sío-López
Investigadora Distinguida 'María Zambrano' Sénior contratada por el programa de Atracción del Talento Internacional NextGenerationEU
Cristina Blanco Sío-López es Investigadora Distinguida 'María Zambrano' Sénior (Senior Distinguished Researcher) contratada por el programa de Atracción del Talento Internacional del Gobierno de España financiado por NextGenerationEU, marco dentro del cual dirige el proyecto NGEU 'FUNDEU' como IP, que cuenta con una financiación de 147.500 €. Su línea de investigación principal en el ESOMI se centrará en: 'Los Legados Históricos de los Derechos de Movilidad Humana: Libre circulación y políticas migratorias en la UE'.
Desde 2019 es IP del proyecto EU Horizon 2020 'NAVSCHEN' —EC GA N.: 841201— en el que coordina un presupuesto de 251.002,56 €: https://www.unive.it/pag/38078/
De 2019 a 2022 fue 'Marie Skłodowska-Curie' Senior Global Fellow en el European Studies Center (ESC) – Jean Monnet EU Center of Excellence de la University of Pittsburgh y en la Università Ca' Foscari di Venezia. Anteriormente, fue Assistant Professor in European Culture and Politics en la University of Groningen, con investigación y docencia trilingüe en inglés, francés y español y 'Santander' Senior Fellow in Iberian and European Studies en el European Studies Centre (ESC) – St. Antony's College de la Universidad de Oxford, del cual es Senior Member.
Es Executive Committee Member de la Global Young Academy (GYA), donde es Co-IP del proyecto GYA North-South 'The COVID-19 Pandemic and Art' y miembro del equipo del proyecto de investigación GYA – Sasha Kagansky  'The COVID-19 Pandemic and the Personal Experiences of Global Young Researchers'. Es también Fellow de la Young Academy of Europe (YAE) y Académica de Número de la Academia Joven de España (AJE). Fue Chair del North America Chapter de la Marie Curie Alumni Association (MCAA) y es Investigadora Asociada R4 en la Association for Global Political Thought de la Harvard University; Investigadora Asociada R4 en la Universidade Nova de Lisboa; Experta del UNESCO Inclusive Policy Lab, así como Experta de la United Nations Network on Migration. Fue Experta para la Research Executive Agency (REA) (Contract N. CT-EX2014D197488-101) y para el programa EU Horizon 2020 COST.
Fue Invited Lecturer 2021 en la University of Vienna; Invited Lecturer 2020 en la University of Florida; IMSISS-CES Senior Visiting Scholar Fellow en la University of Glasgow; Invited Lecturer 2019 en el OCESH – St. Hilda's College de la University of Oxford, así como en el programa 'Law, Justice and Society' del Wolfson College en Oxford. Fue asimismo Senior Lecturer 2018 para el JRC en el IIASA;  Scholar in Residence en la University of Pittsburgh y Experta Invitada 2017 en la Universidad de Shanghai – 上海大学. Anteriormente trabajó como Directora de equipos de investigación pre y post-doctorales, MA Lecturer e IP en Estudios Europeos (FNR 'Spain' project: 1M €; EU Erasmus + 'Borders' project: 660.000 €, etc.) en el Centre Virtuel de la Connaissance sur l'Europe de la Université du Luxembourg; como Research Associate en el Robert Schuman Centre for Advanced Studies (RSCAS) en Florencia y como Investigadora R3 para el Parlamento Europeo. Obtuvo su doctorado (PhD in History and Civilization – Area: European Integration History) en el European University Institute (EUI), recibiendo el Premio 'Helmut Kohl – Carlos V' de la FAEY a la mejor tesis de 'Investigación y Movilidad Europea' en 2008.
Es Editorial Board Member del Rights and Science journal (R&S), ISSN: 2531-1352 y sus más de 200 contribuciones a publicaciones de alto impacto y conferencias internacionales en diversas lenguas (inglés, francés, italiano, español, etc.) pueden consultarse en este enlace. Sus temas de investigación se centran en la Historia del Proceso de Construcción Europea –prestando especial atención a las narrativas temporales de la política de ampliación de la UE y a los derechos fundamentales del Área Schengen– así como en estudios de Gobernanza Global, Integración Regional Comparada y Humanidades Digitales.